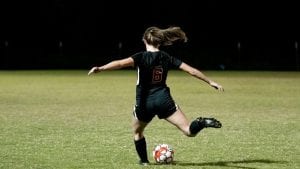 Prestonsburg freshman Anna Burchett has been chosen as 15th Region Player of the Year in voting conducted by coaches.
Burchett has scored 82 goals through 22 games and had 17 assists in helping her team to the regional championship.
She is one of four Lady Blackcats chosen to the first team. She is joined by senior teammates Makayla Ousley, Beth Burchett and Grace Trusty.
Runner-up Lawrence County placed three on the first team. Senior Sarah Lycans is joined by senior Hayleah Fletcher  and junior Ellie Webb.
Rounding out the first team are Johnson Central junior Lauren Johnson and senior Cleo Wells; Belfry senior Kylie Gollihue; Martin County sophomore Kaitlyn Gauze; and Paintsville senior goalkeeper Hope Auxier.
The second team consist of Prestonsburg's Alison Campbell (Senior) and Alexis  Skeens (Sophomore); Johnson Central's Lakin Bentley (Freshman), Haley Lykins (Sophomore) and Konstance McCarty (Junior); Paintsville's Michaela Nieminen (Senior) and Camryn Helton (Freshman); Martin County's Julia Pinson (Sophomore); Belfry's Mylah Caudill (Junior) and Celia Wiedel (Senior); Pikeville's Alivia Gearheart (Senior) and Lawrence County goalkeeper Ally Moore (Senior).
Honorable mention included: Paintsville's Emily Brown (Senior) and Ava Hyden (Sophomore); Prestonsburg's Chloe Collins (Sophomore) and Kadynce Hackworth (Sophomore); Lawrence County's Camran Diamond (Sophomore) and Alyssa Moore (Sophomore); Johnson Central's Chloe Dyer (Freshman) and Madison Hicks (Sophomore); Pikeville's Emma Johns (Senior) and Alexia Wilkerson (Senior); Martin County's  Katelyn Jude (Senior) and Paige Maynard (Senior); and Belfry's  Kenzie Maynard  (Junior) and Hannah Spence (Senior).
PHOTO CREDIT: Dennis Walker