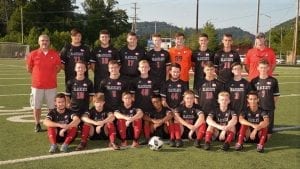 Prestonsburg's Grant Justice scored an unassisted goal with 26 minutes left to give the Blackcats a heart-stopping 1-0 victory over Lawrence County in the 15th Region boys' championship match played at Josh Francis Memorial Field on Thursday night.
Both Prestonsburg goalkeeper Jacob Martin and Lawrence County's Trenton Adkins were outstanding throughout the match. It was Martin's 11th shutout this season.
The Blackcats, now 18-2-2, advance to the Boys State Soccer Tournament Semi-State 8 matchup for the second straight year. Prestonsburg will face 14th Region champion Estill County on the road Monday.
Lawrence County's season ends at 10-6-2.