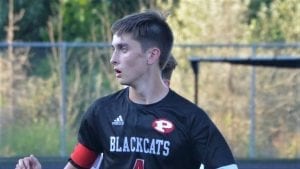 Prestonsburg sophomore Matt Burchett has been solid all season long for the Blackcats.
He has scored 24 goals and has 27 assists through 22 games and helped lead his team to the regional championship Thursday night over Lawrence County.
Burchett has been chosen as the 15th Region boys' soccer Player of the Year in voting by coaches.
He is joined on the first team by teammates Isaiah Collins, Dylan Moore and Grant Justice.
Other first-team selections are Johnson Central's Jake Headley and John Kennard; Lawrence County's Tyler Maynard and Luke Johnson; Martin County's Josh Gauze; Paintsville's Seth Trador; and Belfry's  Cayden Long.
Goalkeepers are Prestonsburg's Jacob Martin and Martin County's Ethan Frey.
Second team picks are Martin County's Bobby Hale and Nathan Frey; Lawrence County's Alex Ratliff and S.J. Lycans; Johnson Central's Nathaniel Narendrakumar, Ethan Pack and Dalton Lawson; Prestonsburg's Preston Case and Austin Buchanan; and Belfry's Eli Runyon and Logan Maynard.
Goalkeeper is Lawrence County's  Trenton Adkins.
Honorable mentions are Thomas Bond and Ian Stallard – Belfry; Payton Sargent and Gabriel Johnson – Johnson Central; Logan Southers and Trevor Brooks – Lawrence County; Colby Barker and Isaiah Zuidema – Martin County; Riley Fleming and Johnny Zuidema – Paintsville; Kane Scarberry and Cameron Goble – Prestonsburg.