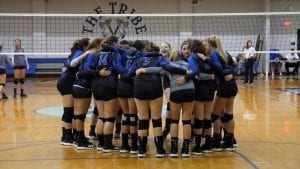 Pikeville and Pike County Central joined the field of semifinalists in the 15th Region volleyball tournament following victories at East Ridge on Tuesday night.
The Lady Panthers, now 30-7, turned away Martin County, 3-0, in a match which was close throughout.
Kaylee Wells finished with 15 kills and McKinlee Potter followed with 12 in the 25-23, 25-19 and 25-20 match. Hannah Akers totaled six kills and Chloe Wright added five kills and four blocks.
Riley Tavis collected 33 assists while Emily Gearheart had 11 digs and Tausha Justice finished with nine. Ashton Crum and Kara Lee had two serving aces each.
Pike County Central, with a record of  20-9, cruised in the opening set and went on to beat Betsy Layne, 3-0, winning 25-10, 25-19 and 25-15. The Lady Bobcats year ends at 17-19.
The semifinals are now set for tonight as defending champion Paintsville (28-8) clashes with Floyd Central (28-7) at 6:30 p.m. Pikeville and Pike Central will meet at approximately 8 p.m.
The champion will be crowned on Thursday night.
14th Region Tournament
At Estill County High School
Letcher Central……3
Hazard……………….0
Letcher County Central punched its ticket to tonight's semifinals with a 3-0 win over Hazard on Tuesday night.
Summer Madden totaled 12 kills and three digs in the 25-8, 25-14 and 25-16 match. Rheagan Holbrook added six kills and five digs while Calista Adams finished with 2 kills and eight blocks. Madison Mason had 12 digs and Jerricka Williams added six.
The Lady Cougars, now 15-9, will faced Breathitt County at 7:30 p.m. tonight.