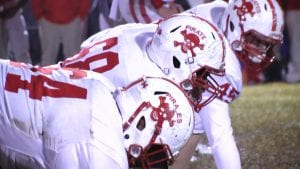 Belfry's high-octane ground attack amassed 406 yards and the Pirates ran past Floyd Central, 46-7, in the opening round of the Class 3A playoffs at CAM Stadium on Thursday night.
Running back Isaac Dixon rushed for 118 yards and two touchdowns on just carries as the Pirates moved to 7-3. Peyton Hensley added 118 yards on seven rushes and one score while Ben Bentley added 67 yards and a rushing touchdown on six carries.
Brenden Rash had 40 yards and the only score of the second half for Belfry. He carried four times. Quarterback Brett Coleman added a rushing touchdown.
Floyd Central running back Gavin Martin had 63 yards on 10 carries and scored a five-yard touchdown in the closing minutes. The Jaguars season ended at 3-8.
Belfry will host the winner of Friday night's matchup between Pike County Central and Lawrence County on Nov. 15.
At Goody
(Class 3A playoffs)
SCORE BY QUARTERS:
FC (3-8)……..0    0   0  7 –   7
BF (7-3)…….19  20  7  0 – 46
Scoring:
First Quarter
BF – Isaiah Birchfield, 54-yard INT (kick failed), 9:54
BF – Isaac Dixon, 46-yard  run (run failed), 7:34
BF – Ben Bentley, 18-yard run (Grayson Cook kick), 2:50
Second Quarter
BF – Isaac Dixon, 6-yard run (kick failed), 6:55
BF – Brett Coleman, 8-yard run (Grayson Cook kick), 2:30
BF – Peyton Hensley, 55-yard run (Grayson Cook kick), 1:40
Third Quarter
BF – Brenden Rash, 23-yard run (Gideon Ireson kick), 7:12
Fourth Quarter
FC – Gavin Martin, 5-yard run (Caleb Hager kick), 2:31
Next up: Belfry (7-3) vs. Pike Central/Lawrence County winner, 7:30 p.m., Nov. 15.