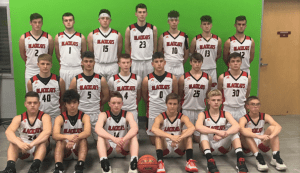 Prestonsburg will look to improve on last year's 16-16 mark under second-year head coach Brent Rose.
The Blackcats will count heavily on four of its top returners – senior Adam Slone (13 ppg., 8 rebs.), senior Graham Burchett (12 ppg., 8 rebs.), junior Grant Justice (6 ppg., 8 assists) and junior Will Gullett (5 ppg., 5 rebs.).
Rose said his team is much quicker than last season and his squad will look to play at a faster pace.
"We improved near the end of the season last year," Rose said. "Our defensive pressure improved with Clayton Smith, Kaleb Jarvis and Justice."
Rose will rely on two top newcomers in junior Gunner Williams  and freshman Ryan Rose.
The goal is simple – see a much-improved team this season.
The Blackcats will open at home against Knott Central on Dec .3.
Prestonsburg schedule
Dec.  3             Knott Central              Home
Dec. 7              Buffalo Wild Wings Shootout
Letcher Central at Pike County Central
Dec. 10            Magoffin County        Home
Dec. 14            East Ridge                  Away
Dec. 17            Floyd  Central             Away
Dec .19-21      Hi-Tech Signs/Graphix  Classic
Morgan County, Wolfe County, Pike Central
Dec. 27-28, 30            Sunshine Classic
TBA, TBA, TBA, at Daytona Beach, Fla.
Jan. 3               Betsy Layne                Home
Jan. 7               Lawrence County       Away
Jan. 9               Phelps                          Away
Jan. 15             Pike Central                Away
Jan. 17             15th Region All  'A' Classic
Shelby Valley at Appy Wireless Arena
Jan. 24             Lawrence County       Home
Jan. 28             Belfry                          Away
Jan. 31             Betsy Layne                Away
Feb. 1              Scott Blank Classic
Breathitt County at Buckhorn
Feb. 4              Magoffin County        Away
Feb. 6              East Ridge                  Home
Feb. 7              Knox Central              Away
Feb. 11            Menifee County          Away
Feb. 14            Floyd Central              Home
Feb. 15            Powell County            Home
Feb. 18            Martin County            Away
Feb. 20            Phelps                          Home