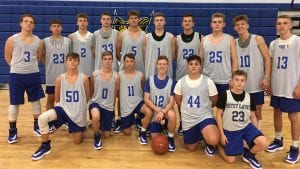 Betsy Layne head basketball coach Brad Short went through the growing pains with his team one year ago.
Now set to begin his second season as leader of the program, his team looks to improve on last year's 13-16 overall mark with a group of talented young players.
There is good reason to be optimistic with the return of the team's top scorer in junior Jordan Frazier. He averaged 13.4 points per game and nearly six rebounds. Add sophomore Brady Robinson, a double-figure scorer as well, the Bobcats have a solid scoring duo.
With junior Shawn Howell, sophomores Chase Mims and Luke Manns, along with freshman Andrew Kidd and Jacob Rainey, the Bobcats should contend.
Others expected to contribute include Byron Tackett, Conner Hopkins, Bryson Ash and Donnie Hamilton.
Short said his team has the potential to be very good with its size, athleticism and scoring ability.
Betsy Layne will tipoff the season against Pike County Central at home on Dec. 2.
Betsy Layne schedule
Dec. 2              Pike Central                Home
Dec. 7              Buffalo Wild Wings Shootout
Magoffin County at Pike County Central
Dec. 11            Lee County                 Home
Dec. 13            Lawrence County       Away
Dec.  16           Phelps                          Home
Dec. 19-21      Hi-Tech Signs/Graphix Classic
TBA, Shelby Valley, Wolfe County at PHS
Dec. 27-29      Buckhorn Lake Christmas
Raceland, TBA, TBA at Buckhorn HS
Jan. 3               Prestonsburg               Away
Jan. 4               Magoffin County        Away
Jan. 7               Shelby Valley             Away
Jan. 9               Johnson Central          Home
Jan. 16             All 'A' Classic at The Arena
Jan. 21             Phelps                          Away
Jan. 24             Floyd Central              Home
Jan. 27             Pike Central                Away
Jan. 31             Prestonsburg               Home
Feb. 1              Lee County                 Away
Feb. 4              Floyd Central              Away
Feb. 7              Lawrence County       Home
Feb. 11            Letcher Central           Home
Feb. 14            Belfry                          Home
Feb. 15            Knott Central              Home
Feb. 17            Martin County            Home
Feb. 20            East Ridge                  Home