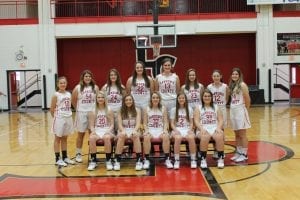 Lawrence County head basketball coach Melinda Feltner is beginning her seventh season on the bench for the Lady Bulldogs.
Her team is coming off an impressive 22-11 record one year ago, and returns seasoned  players, including the squad's lone senior in Alexis Ratliff. She averaged 13.8 points per game and 6.4 rebounds.
Leading scorer and freshman standout Kensley Feltner are back. She scored 15.2 points per game and grabbed 5.7 rebounds. Sophomore Kyleah Ward, junior Ellie Webb, eighth grader Kaison Ward and freshman Brooke Neal.
Top newcomers include Abby Nelson and Tyra Hammond.
"The keys for us this season are to stay healthy," Feltner said. "We can't afford any injuries. We are quicker and more physical."
Lawrence County opened its season on Dec.  2.
Lawrence County schedule
Dec. 2              Greenup County                     Away
Dec. 6-7          BJM/Keyplayer Shootout       Away
Tolsia, W.Va., TBA at Tolsia High School
Dec. 10            Ashland Blazer                        Away
Dec. 13            Betsy Layne                            Home
Dec. 17            Johnson Central                      Home
Dec. 19            Shelby Valley                         Away
Dec. 20            Magoffin County                    Home
Dec. 26-28      Berea Holiday Classic             Away
Anderson County, TBA, TBA at Berea
Jan. 4               Kentucky  2A Championship Tourney
vs. Belfry at site to be determined
Jan. 7               Prestonsburg                           Home
Jan. 13             East Carter                              Away
Jan. 14             Pike Central                            Away
Jan. 17             Floyd Central                          Away
Jan. 20             Tug Valley, W.Va.                 Home
Jan. 21             Magoffin County                    Away
Jan. 24             Prestonsburg                           Away
Jan. 27             Pikeville                                  Home
Jan. 28             Paintsville                                Away
Jan. 31             Floyd  Central                         Home
Feb. 3              Shelby Valley                         Home
Feb. 6              Tug Valley, W.Va.                 Away
Feb. 7              Betsy Layne                            Away
Feb. 11            Paintsville                                Home
Feb. 13            East Carter                              Home
Feb. 17            Johnson Central                      Away
Feb. 21            Martin County                        Home