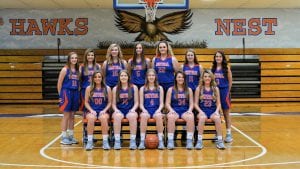 Pike County Central head basketball coach Derrick Newsome says his team's third straight 20-win season one year ago could be attributed to half-court defensive pressure.
He hopes the trend continues in what will be his sixth season at the helm.
"It's pretty simple for us this season, we've got to lock people down on the defensive end…that was our staple," he said. "And we must do a good job of rebounding."
He returns four key players from last year, Kelsi Brinager, Chloe Neece, Bailey Birchfield and Lexi Newsome.
Newsome says he will count heavily on newcomer exchange student Anna Carnell, freshman Hannah May and sophomore Sarah Justice to provide the lift needed to keep this program on top.
The Lady Hawks opened the season Dec.  2.
Pike Central schedule
Dec. 2              Martin County            Home
Dec. 3              Pikeville                      Away
Dec.  5             Betsy Layne                Away
Dec. 9, 12, 14  Mountain Classic        Away
Clay County, TBA, TBA at Knott Central
Dec. 17            Shelby Valley             Away
Dec. 20-21      Pike Central Classic    Home
Lynn Camp, North Laurel
Dec. 23            Hazard                        Away
Dec. 27-30      Sunshine Classic         Away
TBA, TBA, TBA, Daytona, Fla.
Jan. 3, 6, 10     Kentucky  2A championship
Magoffin County, TBA, TBA, STBD
Jan. 14             Lawrence County       Home
Jan. 16             Phelps                          Home
Jan. 24             Belfry                          Home
Jan. 25             Lady Hawk 1-day Showcase
Knott County Central Home
Jan. 27             East Ridge                  Home
Jan. 28             Martin County            Away
Feb. 3              Belfry                          Away
Feb. 5              Pikeville                      Home
Feb. 6              Mt. Mission, Va.         Home
Feb. 8              Phelps                          Away
Feb. 11            Letcher Central           Home
Feb. 13            Johnson  Central         Home
Feb. 18            Magoffin County        Away
Feb. 21            Paintsville                    Home