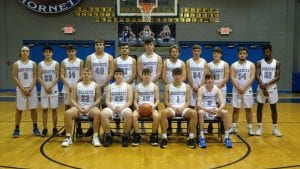 Phelps second-year head coach Jason Sanson will look to improve on last year's 15-15 mark which earned the Hornets a spot in the 15th Region tournament.
Enthusiasm is running at a high level with the return of the team's top three scorers in Trey Francis (17.6 ppg.), Dominick Francis (10.2 ppg.) and Jason Casey (7 ppg.) Add to the mix Cameron Sanson, Seth Mayhorn and Landon Dotson, all of which played a big role in the team's success in 2018-19.
Top newcomers will include Jaylen Wells, Dawson McCoy, Hayden Mounts and Mason Prater.
"We were pretty good last year defensively," Sanson, now in his 19th year of coaching, said. "We need to be able to put some points on the board. Our focus this year will be on offense."
The Hornets open the season against Pikeville at home on Dec. 2.
Phelps schedule
Dec. 2              Pikeville                      Home
Dec. 3              Hurley, Va.                 Home
Dec. 7              Lawrence County       Away
Dec. 11-13      Mountain Classic        Away
Vs. Hazard, TBA at Knott County Central
Dec. 16            Betsy Layne                Away
Dec. 19-21      Smoky Mountain Classic
TBA, TBA, TBA, Gatlinburg, Tenn.
Dec. 27-28      Mountain Schoolboy   Away
Sayre, Whitley County at Belfry High
Jan. 4               Twin Valley, Va.        Away
Jan. 9               Prestonsburg               Home
Jan. 11             Hatfield-McCoy Shootout
TBA, at Williamson Field House
Jan. 14             Pike Central                Home
Jan. 16             15th Region All 'A' Classic
Jenkins at Appy Wireless Arena
Jan. 21             Betsy Layne                Home
Jan. 24             Belfry                          Away
Jan. 25             Lawrence County       Home
Jan. 27             Letcher Central           Home
Jan. 28             River View, WV         Home
Jan. 30             East Ridge                  Home
Feb. 1              Twin Valley, Va.         Home
Feb. 4              Hurley, Va.                 Away
Feb. 7              Belfry                          Home
Feb. 18            Pike Central                Away
Feb. 20            Prestonsburg               Away