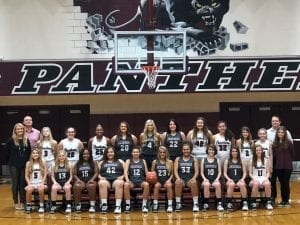 When the Pikeville Lady Panthers defeated Johnson Central in last year's 15th Region championship game, it marked the first time in 39 seasons the team was off to the Sweet 16.
It was also the first title for head coach Kristy Orem in her 21 years on the bench.
With the beginning of her 22nd season, she hopes her team can work its way back to the state's biggest stage by March.
Pikeville returns three starters and its top reserve from last year's 27-8 squad which fell in the opening round to Barron County at Rupp Arena.
Senior Kirsten Cole Williamson is the top returning scorer at 12.4 points per game and nearly eight rebounds. Seniors Kelsey Jo Tackett and Alivia Gearheart are back along with eighth-grader Trinity Rowe.
Other top seniors include Alexia Wilkerson and Michaela Hunter.
Top newcomers include Emma Ratliff, McKenzie Maynard, Rylee Theiss, Leighan Jackson, Kennedy Rash and Kylie Hall.
Pikeville opens its season at home against Pike County Central on Dec. 3.
Pikeville schedule 2019-20
Dec. 3              Pike Central                Home
Dec. 5              Paintsville                    Away
Dec. 6              Magoffin County        Home
Dec. 9              Ridgeview, Va.           Home
Dec. 12            Johnson Central          Away
Dec. 14            Perry Central               Away
Dec. 19-21      Smoky Mountain Classic,
Gatlinburg-Pittman H.S.
Dec. 27            Pikeville Invitational
Dixie Heights                                      Home
Jan. 4               Shelby Valley             Away
Jan. 9               All 'A' Classic
at The Arena   vs. Paintsville
Jan. 17             East Ridge                  Home
Jan. 18             Magoffin County       Away
Jan. 20             Ashland Blazer          TBA
Jan. 27             Lawrence County     Away
Jan. 30             Shelby Valley           Home
Feb. 3              East Ridge                 Away
Feb. 5              Pike Central               Away
Feb. 6              Belfry                          Home
Feb. 8              Russell                        Home
Feb. 13            Letcher Central         Home
Feb. 15            Perry Central              Home
Feb. 17            Belfry                           Away
Feb. 20            Hazard                        Home