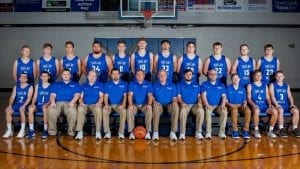 Shelby Valley basketball has been blessed with outstanding players over the years, including Mr. Basketball Elisha Justice. Just a few miles up the road old Virgie High produced Mr. Basketball Todd May.
Fast forward to 2019-20 and you can add senior Cody Potter into the mix as a leading candidate to win the award.
Potter averaged better than 22 points per game and nine rebounds as a junior in helping lead the Wildcats to a 28-6 record.
The Wildcats also return Keian Worrix, Aaron Bates, Zach Johnson, Kaden Robinson, Jacob Caudill and Peyton Blackburn to coach Jim Hicks' squad.
Top newcomers expected to contribute include Eli Sykes, Chaz Brown and Russ Osbrone.
Hick, starting his seventh season at Shelby Valley (121-66) and 19th overall (320-188), said his team's key to success is getting the younger players experience and blending in the newcomers. He said improving on defense is a top priority.
Shelby Valley will tip off its season against Jenkins at the Shelby Valley Sports Center on Dec. 2.
Shelby Valley schedule 
Dec. 2              Jenkins                        Home
Dec. 5              Cordia                         Home
Dec. 7              Buffalo Wild Wings Shootout
Spencer County at Pike Central
Dec .10            Johnson Central         Home
Dec. 12            Floyd Central              Away
Dec. 16            Pike Central                Home
Dec. 19-21      Hi-Tech Signs/Graphix  Classic
Wolfe Co., Betsy Layne, Morgan County
at Prestonsburg High School
Dec. 27-29           Mountain Schoolboy Classic
West Carter, Harvest Prep (OH), Perry Cent.
at Belfry High School
Jan. 4               Pikeville                      Away
Jan. 7               Betsy  Layne               Home
Jan. 9               East Ridge                  Away
Jan. 11                 Hatfield/McCoy Shootout
TBA, Williamson Fieldhouse
Jan. 17                15th Region All 'A' Classic
Prestonsburg at Appy Wireless Arena
Jan. 21             Pikeville                      Home
Jan. 29             Magoffin County        Away
Jan. 31             Belfry                            Away
Feb. 1              East Ridge                    Home
Feb. 4              Pike Central                  Away
Feb. 7              Jenkins                          Away
Feb. 8              Floyd Central              Home
Feb. 11            Martin County             Away
Feb. 14            Letcher Central           Home
Feb. 18            Magoffin County        Home
Feb. 20            Johnson Central          Away