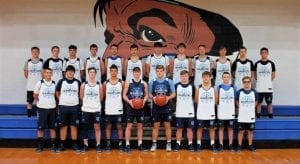 East Ridge head coach Brody Justice said success is a pretty simple formula – play and work harder than anyone you play.
The Warriors will rely on the leadership of returners Dalton Wellman, Cameron Hess and Hunter Damron. Wellman averaged 12.2 points and 6.5 rebounds and Hess averaged 13 points on last year's 12-16 team.
Other top returners Eli Rose, Braxton Stanley, Jackson Potter and Connor Puckett.
Justice is looking for help from newcomers Isaac Woods, Jon Mills, Matt Mills, Brad Howell, Zach Mason and Gavin Riley.
Justice added his team is looking to take pride in its defense and playing an up-tempo style of basketball.
East Ridge opens its season against Grundy, Va. at home on Dec. 3.
East Ridge schedule
Dec. 3              Grundy, Va.                Home
Dec. 5              Pike Central                Home
Dec. 10            Belfry                          Away
Dec. 12            Pikeville                      Away
Dec. 14            Prestonsburg               Home
Dec. 17            Grundy, Va.                Away
Dec. 18            Piarist School              Home
Dec. 20-22      Derby Classic at Raceland
Dec. 28            Hyden Citizen's Bank Classic
Harlan County at Leslie County H.S.
Jan. 3               Jenkins                        Away
Jan. 6               Magoffin County        Away
Jan. 9               Shelby Valley             Home
Jan. 11             Hatfield/McCoy Shootout
TBA at Williamson Fieldhouse
Jan. 13             Floyd Central              Home
Jan. 15             15th Region All 'A' Classic
Paintsville at Appy Wireless Arena
Jan .20             Martin County            Away
Jan. 23             Johnson Central          Home
Jan. 28             Jenkins                        Home
Jan. 30             Phelps                          Away
Feb. 1              Shelby Valley               Away
Feb. 4              Letcher Central           Away
Feb. 6              Prestonsburg               Away
Feb. 10            Pikeville                       Home
Feb. 13            Pike Central                Away
Feb. 14            Piarist School              Home
Feb. 15            Magoffin County        Home
Feb. 18            Belfry                           Home
Feb. 20            Betsy Layne                Away