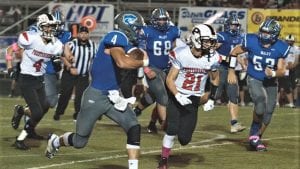 Shelby Valley used a pair of fourth-quarter touchdowns to pull away from Martin County as the Wildcats earned a 41-24 victory in the Class 2A playoff matchup played at Taco Field on Friday night.
The Cardinals, who finished 7-4, had closed to within 26-24 late in the football game before the Wildcats took charge down the stretch.
Running back Ethan Bentley carried 15 times for 153 yards and two touchdowns and quarterback Dalton Meade added 133 yards and two scores on 16 rushes to help Valley improve to 9-2.
Running back Jayden Newsome finished with 91 yards and a touchdown on 12 carries as the Wildcats amassed 447 yards on the ground. Jordan Little added 70 yards on five rushes and a touchdown.
Brayden Keathley and Jayden Newsome led the defense with 11 tackles each.
The victory earns the Wildcats a rematch with West Carter (8-3) for the district championship on the road this coming Friday night. Kickoff for Comets Stadium is set for 7:30 p.m.