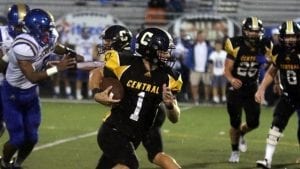 Johnson Central's offense is like a runaway train.
Quarterback Ryley Preece completed 17 of 19 passes for 320 yards and three passing touchdowns and he rushed for another as the Golden Eagles cruised past Letcher County Central, 49-7, in the Class 4A playoff opener played at Eagle Field on Friday night.
Receiver Seth Dalton hauled in eight passes for 198 yards and all three touchdown passes throw by Preece. Zach Russell added 79 yards on five catches.
Running backs Mason Lawson, Devin Johnson and Bladen Sexton each added a rushing touchdown as Johnson Central moved to 11-0.
Cameron Wright picked off a pass and Grant Race led the defense with seven tackles.
Johnson Central will host Harlan County (8-3) in the district championship game on Nov. 15. Kickoff is set for 7:30 p.m. The Golden Eagles rolled past the Black Bears, 56-6, back on Oct. 18.