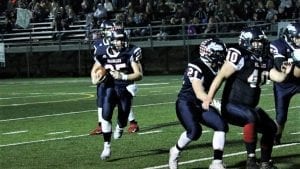 Man didn't see Bluefield running back J.J. Davis much but when they did he was a force to handle.
Davis had four rushing touchdowns and capped off the first half with a 30-yard interception return to power the Beavers to a 48-16 victory over the Hillbillies at historic Mitchell Stadium on Friday night.
He finished with 162 yards rushing, all in the opening half, as the Beaver built a 42-0 lead.
Beaver quarterback Carson Deeb completed 19 of 23 passes for 214 yards and a pair of touchdowns as Bluefield moved to 10-1.
The Hillbillies, who season ended at 8-3, was held to 27 yards passing and 157 yards rushing.
Man running back Josh Moody scored on a 28-yard touchdown run and Dylan Morris added a four-yard score in the final period.
Bluefield will host Keyser this coming weekend in the quarterfinals.