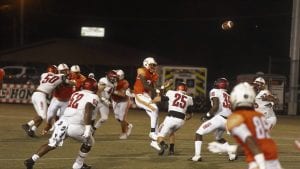 The University of Pikeville football Bears were on the doorstep of beating an NAIA nationally ranked opponent for the second time this season Saturday evening at the Hambley Athletic  Complex.
A busted-play, 80-yard touchdown pass play, which looked to be broken up, gave the University of Cumberlands the margin needed to defeat the Bears, 24-13.
UPIKE, now 2-3, led 7-0 early on quarterback Trevon Wofford's 17-yard run with 7:47 left in the opening period.
The Bears managed just a pair of Zaniel Phillips field goal from that point on. He hit from 23 and 24 yards away to keep the score at 14-13.
Running backs Alex Sanders  and  Derius Gibson combined for 143 yards rushing. Wofford passed for 137 yards.
UPIKE will journey to Georgetown College (2-2) on Oct. 12. Kickoff is set for 1:30 p.m.
At Pikeville
SCORE BY QUARTERS:
UC (4-0)….0  7  7  10 – 24
UP (2-3)….7  3  3    0 – 13
Scoring:
First Quarter
UP – Trevon Wofford, 17-yard run (Zaniel Phillips kick), 7:47
Second Quarter
UC – Jarrett Cornelius, 76-yard fumble return (Devon McMillin kick), 12:26
UP – Zaniel Phillips, 23-yard field goal, 8:07
Third Quarter
UC – Marquez Trigg, 1-yard run (Devon McMillin kick), 8:57
UP – Zaniel Phillips, 24-yard field goal, 5:12
Fourth Quarter
UC – Brandon Stuckey, 80-yard pass from Ky'zheyone Burton (Devon McMillin kick), 9:56
UC – Devon McMillin, 37-yard field goal, 2:57
Next up: Pikeville (2-3) at Georgetown (2-2), 1:30 p.m., Oct. 12.