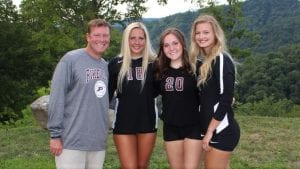 Four area high school volleyball teams have punched their tickets to the 15th Region tournament with semifinal-round wins at Jenkins and Prestonsburg on Monday night.
At Jenkins, Pikeville improved to 28-7 with a 3-0 victory over the host Lady Cavaliers while East Ridge, now 21-7, defeated Shelby Valley, 3-0.
Kaylee Wells had 11 kills and Chloe Wright followed with seven in the 25-6, 25-4 and 25-9 win.
Emily Gearheart finished with 12 digs and nine aces while Riley Tavis totaled 25 assists and nine serving aces. McKinlee Potter added six kills and Hannah Akers four.
Sarah Tackett finished with 13 kills, seven digs and seven serving aces in the 25-10, 25-21 and 25-14 win. Haley Parks had 11 kills, four digs and two aces while Lakin Puckett finished with three kills and 19 assists and Lexie Little totaled seven digs.
Pikeville and East Ridge will meet in the championship match at 7 p.m. tonight at Jenkins.
At Prestonsburg, Floyd Central cruised to a 3-0 win over the host Lady Blackcats while Betsy Layne knocked off Lawrence County, 3-1.
Jaden Hall had nine kills, seven digs and four serving aces as the Lady Jaguars rolled 25-16, 25-14 and 25-12. Allison Turner added six kills, three digs and three kills. Alivia Stumbo collected nine digs while Kiara Warrens had 10.
In other district matchup tonight:
Paintsville (25-8) will face Magoffin County (0-20) in the 57th District tournament opener at Johnson Central beginning at 6:30 p.m.
The host Lady Eagles (13-14) battles Martin County (22-10) meet in the second match set for 8 p.m.