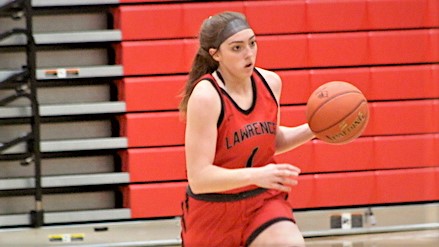 The numbers simply do not lie when it comes to the season Lawrence County sophomore Kensley Feltner had on the basketball court.
She scored 848 points for an average of 28.3 points per game. She had three triple doubles and 18 double-doubles in leading the Lady Bulldogs to a second straight 58th District championship and berth in the 15th Region tournament. Feltner led her team to its first tournament win in 11 seasons.
Feltner is already the school's all-time leading scorers for girls and if she stays healthy could surpass Timmy Dalton's all-time mark of 3,209 points.
She has been named the Mountain Top Sports Player of the Year, edging out Shelby Valley junior Cassidy Rowe.
Rowe, who continues her remarkable comeback, was tabbed first-team captain of a talented group of players. Betsy Layne junior Kim Akers heads up the second time while Martin County sophomore Katie Marcum is captain of the third unit.
Pikeville High School coach Kristy Ward Orem was named Coach of the Year after guiding her team to a third straight appearance in the girls' Sweet 16 basketball team and the region's best record.
Here is a look at the Mountain Top Sports girls' All-Area basketball teams:
Coach of the Year: Kristy Ward Orem
Player of the Year: Kensley Feltner, So., Lawrence County, 28.3 ppg.
FIRST TEAM
Cassidy Rowe, Jr., Shelby Valley, 12.9 ppg. (Capt.)
Kyera Thornsbury, Fr., Belfry, 18.9 ppg.
Katie Jo Moore, Sr., Floyd Central, 18.1 ppg.
Sammi Sites, Sr., Johnson Central, 15.8 ppg.
Trinity Rowe, Fr., Pikeville, 15.1 ppg.
Kaylee Banks, Jr., Letcher Central, 15 ppg.
Kenzie Maynard, Sr., Pikeville, 11. ppg.
Kelci Blair, Sr., Johnson Central, 14.1 ppg.
Alyssa Elswick, Jr., Shelby Valley, 15.4 ppg.
SECOND TEAM
Kimberly Akers, Jr., Betsy Layne, 12.8 ppg. (Capt.)
Laken Williams, Fr, Martin County, 13.2 ppg.
Emilea Preece, Fr., Paintsville, 14.2 ppg.
Kennedy Harvel, So., Floyd Central, 13.6 ppg.
Faith Lazar, Jr., Prestonsburg, 15.2 ppg.
Cushi Fletcher, Jr., Belfry, 14.1 ppg.
Kristen Whited, Fr., Pikeville, 10.1 ppg.
Clara Blair, Jr., Johnson Central, 10.3 ppg.
Jerrica Thacker, Sr., Jenkins, 17.4 ppg.
THIRD TEAM
Katie Marcum, So., Martin County, 12.3 ppg. (Capt.)
Angel Mullis, So., Magoffin County, 14.3 ppg.
Hannah May, So., Pike Central, 11.4 ppg.
Madilyn Meade, Jr., Betsy Layne, 14.4 ppg.
Kyra Looney, Jr., Shelby Valley, 10 ppg.
Leah Wells, Jr., East Ridge, 10.3 ppg.
Celina Mullins, So., Prestonsburg, 12.2 ppg.
Chloe Hannah, Fr., Paintsville, 12.3 ppg.
Kaison Ward, Fr. Lawrence County, 8 ppg.