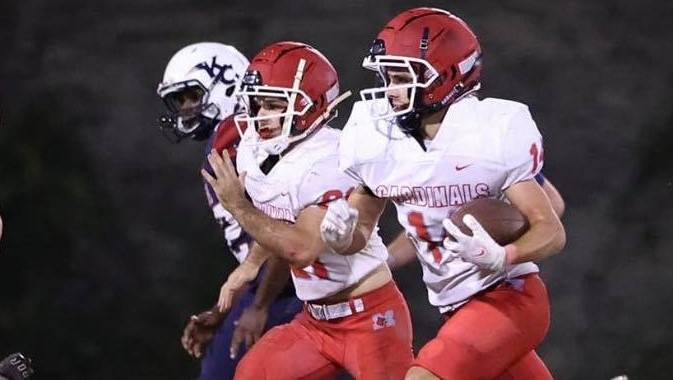 Martin County football is on a roll.
The Cardinals unleashed a balanced ground game to pull away and beat Shelby Valley, 49-20, in the district showdown played at The Rock on Friday night.
Five different running backs scored at least one touchdown each, including quarterback Jason Maynard who reached paydirt twice. Maynard also passed for 100 yards and a score.
Kolby Sparks ran for 180 yards on 12 carries and one score while Branson Smith followed with 91 yards and a touchdown on 12 attempts.
Dawson Mills totaled 87 yards and a score while Madden Miller added a touchdown on the ground. Mills caught an 84-yard TD pass.
Valley quarterback Russ Osborne passed for 185 yards and two scores. He also ran for 73 yards and a touchdown.
Receivers Brady Bentley and Ethan Bentley had touchdown catches. Brady Bentley had three catches for 95 yads.
Both teams are back in action this coming Friday as the Cardinals, now 6-3 and winners of four straight, go to West Carter (5-2). The Wildcats (3-4)will host East Ridge (2-5). Both games will kick at 7:30 pm.