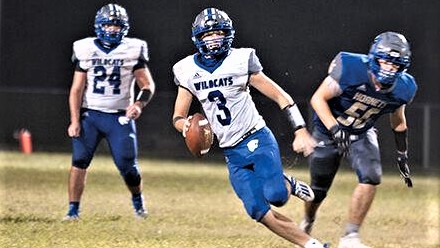 Shelby Valley stopped Martin County inside the red zone late to hold on for a 29-22 win over the Cardinals at Teco Field in the opening round of the Class 2A playoffs on Friday night.
The win advances the Wildcats, now 7-2, into the district championship game against West Carter (8-1) on Nov. 27 at Kentucky Christian University.
Quarterback Russ Osborne passed for 108 yards and one touchdown and ran for 71 yards and another.
Running back Jayden Newsome rushed for 108 yards on 16 carries while Jordan Little added a rushing touchdown. Anthony Pallotta had a TD reception. He had two catches for 71 yards.
The biggest play of the game was Ethan Bentley's 99-yard interception return in the fourth quarter with the Cardinals driving to tie or take the lead.
Martin County running back Logan Proctor ran for 197 yards and a first-half touchdown while Kolby Sparks rushed for 115 yards and one score on 15 carries.
Branson Smith finished with 63 yards on 18 rushes and a fourth-quarter touchdown.
At Robinson Creek
(Class 2A playoffs)
SCORE BY QUARTERS:
MC (3-4)….0 7 7 8 – 22
SV (7-2)…..7 14 0 8 – 29
Scoring:
First Quarter
SV – Russ Osborne, 43-yard run (Jonah Little kick)
Second Quarter
SV – Jordan Little, 1-yard run (Russ Osborne run)
MC – Logan Proctor, 7-yard run (Bobby Hale kick)
SV – Anthony Pallotta, 35-yard pass from Russ Osborne (conversion failed)
Third Quarter
MC – Branson Smith, 2-yard run (Bobby Hale kick)
Fourth Quarter
SV – Ethan Bentley, 99-yard INT (Russ Osborne run)
MC – Kolby Sparks, 23-yard run (Logan Proctor run)
Next up: Shelby Valley (7-2) at West Carter (8-1), Nov. 20, TBA; Martin County's season ends.