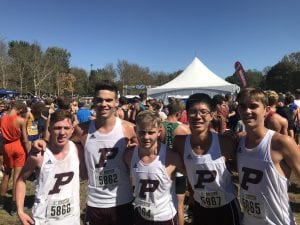 Pikeville High School, despite being project to finish as low as 37th in the Greater Louisville Classic, raced home to a number 16 finish overall, and first among Class A schools participating in the weekend event.
Four of the team's cross-country runners scored personal bests to help the Panthers, now ranked No. 2 statewide in the KHSAA rankings, to their impressive finish.
Here is a breakdown of times:
Harrison Booher (17:04.4) [PR]
Drew Hurley (17:07.8) [PR]
Jason Lin (17:26.7) [PR]
Rylan Keathley (18:04.6 [SB]
Eric Green (18:15.85) [PR]
Booher and Hurley's times were the 11th and 13th fastest times for a 5K run in school history.
The team will participate this coming Saturday in a cross country meet at Powell County.