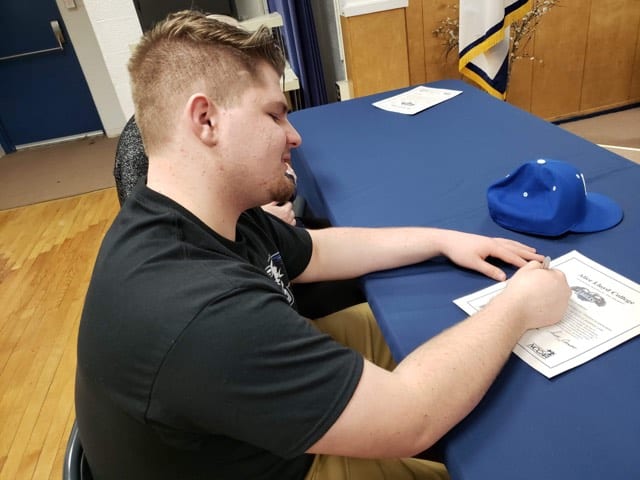 MAN – Man High School catcher Dylan McCormick dreamed as a young player what it would feel like to play on the collegiate level.
His extreme work ethic paid off earlier this week as he signed to play on the college level at Alice Lloyd College in Pippa Passes during a signing ceremony held at the school.
"It feels great," he said. "You think about what your signing day will be like and who is going to be there. It's a great experience. It's even better than you could have imagined."
He led the team with a .493 batting average this past season.
Head coach Mike Crosby said when he came to the program two years ago his work ethic was second to none.
"He was going to put in the time and earn his place," Crosby said. "The fire and the excitement he brought to the team loosened the guys up and that went a long way in helping us have a good season and it's helped in the offseason."
McCormick said once he visited ALC it was the place he wanted to play.
"The facilities were great there and I really liked coach [Scott] Cornett. It was a nice campus and it attracted me."
Assistant coach Jack Daniels saw something special in McCormick as a player.
"He has an extremely hard work ethic and you'll find him in the batting cage all the time. He works as hard as any player I've been around."
McCormick feels like he can come in and help the Eagles immediately.
"I'm going to grit and grind it and do what they want me to do. I've always put my team first and I'll do the same there."
Man, which finished 15-9-1 one year ago, opens its final season in Class AA at Oak Hill on March 18.