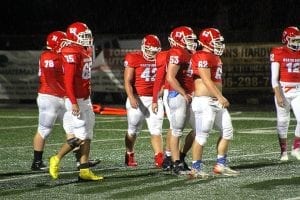 Martin County beat Prestonsburg for the first time in 14 seasons with a 32-6 victory at The Rock on Friday night, securing a post-season berth.
The Cardinals, now 6-3, rushed for 339 yards and passed for 75 to finish with 414 total yards.
Running back Logan Proctor paced Martin County with 151 yards and one touchdown on 17 carries while Alex Bowen followed with 17 rushes for 121 yards. Proctor also had a pair of catches for 42 yards.
Braxton Smith added 58 yards and nine carries and two touchdowns while quarterback Drake Muncy passed for 75 yards and ran for a short touchdown. Dawson Jude caught one pass for 33 yards.
Martin County will close out the regular season at Middlesboro (7-2) on Nov. 1. Kickoff is set for 7:30 p.m.
PHOTO CREDIT: Stephanie Danielle Stiles-May