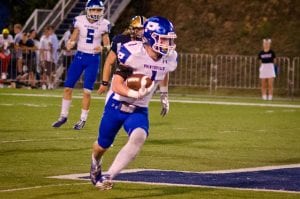 Pikeville, which is now 9-0 with this week's forfeit win over Jenkins, has dropped to No. 2 in the latest Kentucky High School Athletic Association's RPI rankings released Monday.
The Panthers trail only No. 1 Kentucky Country Day (8-0).
Rounding out the top five are Lexington Christian (7-1), Boyle County (8-0) and Somerset (7-1).
Here is a look at area school rankings:
No. 2 – Pikeville (9-0), 0.793
No. 12 – Johnson Central (8-0), 0.707
No. 13 – Paintsville (6-2), 0.702
No. 33 – Belfry (5-2), 0.643
No. 49 – Pike County Central (7-1), 0.613
No. 53 – Shelby Valley (7-2), 0.611
No. 94 – Martin County (5-3), 0.532
No. 106 – Lawrence County (3-5), 0.513
No. 109 – Phelps (4-4), 0.510
No. 127 – Letcher Central (3-5), 0.475
No. 140 – Floyd Central (3-5), 0.448
No. 164 – Magoffin County (3-6), 0.405
No. 165 – Betsy Layne (3-6), 0.403
No. 166 – Prestonsburg (2-7), 0.402
No. 215 – East Ridge (0-8), 0.303