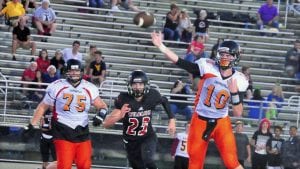 Chapmanville took the lead away from Logan late in the first half and the Tigers went on to win their fifth straight game, beating the Wildcats, 48-26, at Willis-Nisbet Stadium on Friday night.
Tiger quarterback Chase Berry finished with 204 yards rushing and one touchdown and passed for 194 yards and three scores as Chapmanville moved to 5-3. He completed 16 of 18 passes.
Jaxson Turner, Jacob Mullins and Brody Dalton each had a TD reception.
Logan quarterback Jordan  Hayes ran for a touchdown and tossed a 22-yard pass to Corey Townsend for another as the Wildcats dropped to 1-7.
Chapmanville will host Mingo Central (6-2) and Logan plays at Wayne (0-8) on Nov. 1. Both games are set for 7:30 p.m.