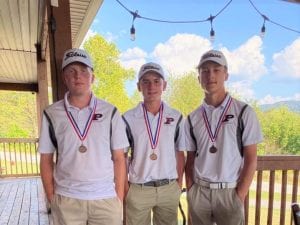 The Pikeville High School boys' golf team is headed to the state tournament following their second place finish this week in the Region 11 tournament.
The Panthers finished with a team total 305. Estill County was first with a 293 score.
Prestonsburg finished third, followed by Martin County and Paintsville.
Pikeville's Cameron Roberts finished third as an individual winner. Teammates Colin Street and Jordan Ratliff placed sixth and seven.
Prestonsburg's Mason Compton came in ninth.
In the girls' tournament, Johnson Central and Letcher Central finished second and third in the team results behind Estill County.
Paintsville's Isabella Cristy was the top individual in Region 11, followed by Shelby Valley's Sophia Beverly who took second place. Martin County's Mallory Davis was fifth, followed by Pike County Central's Emily Lawson and Hannah Williams in sixth and seventh place.
Other top 10 finishers included Piarist School's Kennedy Bowen in ninth place and Prestonsburg's Katelyn Bingham in 10th.