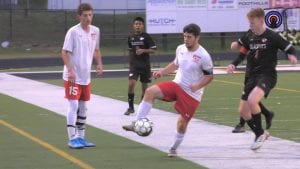 Prestonsburg won its fourth straight match and punched its ticket to the 57th District boys' championship match Thursday night with a 6-1 victory over Martin County at Eagle Field on Tuesday.
Matt Burchett scored a pair of goals and assisted on three others as the Blackcats moved to 15-2-2. Dylan Moore followed with two goals while Preston Crase and Isaiah Collins added one each.
Goalkeeper Jacob Martin allowed just a single goal.
Meanwhile, Johnson Central took charge early on and rolled to a 7-1 victory over Paintsville.
Jake Headly scored three goals and Braden Kennard added two as the Golden Eagles improved to 7-7-2. Gabe Johnson and Nathaniel Kumar added one goal  apiece.
Goalkeeper Tate Cox allowed just a single goal.
Prestonsburg and Johnson Central will meet in the championship match at Eagle Field on Thursday night. The match is set to begin at 8 p.m. The Blackcats won the only regular season meeting between the two programs.
In 53rd District tournament action Tuesday night:
Hazard eliminated Letcher Central, 5-1.
58th District Tournament
Boys' championship at Goody
Belfry will host Lawrence County at 8 p.m. Thursday night in the championship match at Massey Energy Field. The Pirates and Bulldogs are the only two teams to compete in the district this year.
GIRLS
Lawrence County and Belfry advanced to the 58th District tournament championship with victories at Massey Energy Field in Goody on Tuesday night.
The Lady Bulldogs rolled past Shelby Valley, 13-0.
Goalkeeper Allyson  Moore recorded her second straight shutout as the Lady Bulldogs moved to 12-5-0.
Sarah Lycans had a big night offensively, scoring seven goals and assisting on another. Ellie Webb added three goals and one assist while Autumn Maynard scored twice and had one assist.
Alyssa Moore totaled four assists while Camran Diamond finished with two.
Belfry dominated its  match  with Pikeville, winning 9-0.
Kylie Gollihue scored five goals as the Lady Pirates improved to 11-7-1. Kristine Brucal, Kenzie Jackson, Mylah Caudill and Roxie Cline added one goal apiece.
Belfry took 20 shots on goal and Pikeville goalkeeper Ashton Godsey had eight saves. The Lady Panthers, who finished the season 2-15-0, had just four shots.
Lawrence County and Belfry will meet in the championship match at 6 p.m. Thursday at Massey Energy Field.
57th District Tournament
Girls' championship at JC
Johnson Central and Prestonsburg will clash at 6:30 p.m. on Thursday night at Eagle Field in Paintsville for the girls' championship match.