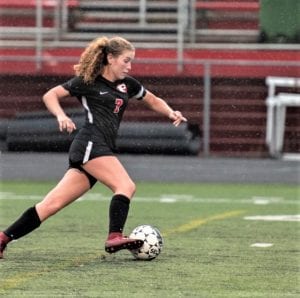 Prestonsburg's Lady Blackcats dominated from start to finish in cruising past Russell, 11-1, in a match played Tuesday night.
Elizabeth Burchett and Anna Burchett each finished with four goal apiece while Anna Trusty added two and Kadynce Hackworth scored one.
Makayla Ousley finished with three assists and became the Kentucky High School Athletic Association's all-time leader in the category. She now has 96, breaking the record previously held by Reidland's April Freeman (1992-96).
Lauren Patton added two while Alexis Skeens, Trusty and Elizabeth Burchett had one each.
Prestonsburg is now 10-1-0.
Belfry………………..5
Letcher Central….0
Belfry's Kylie Gollihue finished with a hat trick as the Pirates blanked Letcher Central, 5-0, in a match played at Massey Energy Soccer Complex on Tuesday night.
In addition to her three goals, Mylah Caudill added two as Belfry moved to 5-4-1. Belfry goalkeeper Kenzie Maynard had 10 saves in recording the shutout.
Letcher Central (1-4-1) goalkeeper Kassandra Ramirez had 11 saves as the Lady Pirates took 18 shots on goal.
Johnson Central..1
Paintsville…………0
Paintsville goalkeeper Hope Auxier finished with 22 saves as the Lady Tigers fell to 7-3-0.
BOYS
Johnson Central….10
Paintsville……………3
Johnson Central's Jake Headly knocked home five goals to power the Golden Eagles to a 10-3 win over cross-town rival Paintsville in action on Tuesday night.
Nathaniel Kumar followed with two goals while Sawyer Crum, Gabe Johnson and John Kennard added one apiece.
The Golden Eagles are now 2-5-1 while the Tigers dropped to 4-6-0.
Prestonsburg…..….1
Lawrence County…1
Prestonsburg's Grant Justice scored off an assist by Matt Burchett to help the Blackcats earn a 1-1 tie with Lawrence County in a match played on Tuesday night.
The Blackcats are now 5-7-1 while the Bulldogs are 4-4-1.
In matches scheduled for Wednesday:
Martin County boys  will host Mingo Central at 8:30 p.m.
Martin County girls will host Mingo Central at 6:30 p.m.