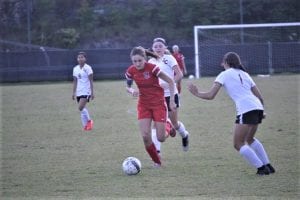 Prestonsburg goalkeeper Jacob Martin his second straight shutout and ninth this season as the Blackcats blanked Martin County, 8-0, in a match played on Tuesday night.
Dylan Moore had three goals and one assist as Prestonsburg improved to 13-2-2. Grant Justice scored a pair of goals while Matt Burchett added one and two assists.
Ryan Rankin and Isaiah Collins each scored one goal and assisted on one each while Preston Crase finished with two assists and Ben Burchett had one.
Belfry……..10
Man…………0
Belfry built a commanding halftime lead against Man and went on to score a 10-0 win in a match played at Massey Energy Soccer Complex on Tuesday night.
Thomas Bond's goal in the 42nd minute ended the match on the mercy rule. The Pirates improved to 8-6-1 to close out the regular season.
Dalton Stacy and Ian Stallard had two goals apiece while Eli Runyon, Aiden McCoy, Isaiah Hackney, Blake Bulik and Niles McCoy added one goal each
Man goalkeeper Cierra Crawford had nine saves as Belfry took 29 shots on goal. The Hillbillies dropped to 0-8-0.
In other action on Tuesday:
Johnson Central defeated cross-town rival Paintsville, 4-1.
GIRLS
Letcher Central…1
Pikeville……..……0
Letcher Central's Rylee Lewis snapped a 0-0 tie with a goal in the second half and the Lady Cougars held on to beat Pikeville, 1-0, in a match played at Bob Amos Soccer Complex on Tuesday night.
Goalkeeper Kassandra Ramirez record her second straight shutout win as the Lady Cougars moved to 5-6-0.
Pikeville goalkeeper Madison Thacker was outstanding in the loss as the Lady Panthers fell to 2-14-0.
Lawrence Co….2
Rowan County…0
Lawrence County went on the road to Morehead and beat Rowan County, 2-0, in a match played on Tuesday night.
Ellie Webb and Sarah Lycans scored one goal apiece as the Lady Bulldogs moved to 11-5-0.
Goalkeeper Allyson Moore had 12 saves.
Prestonsburg……11
Martin County……1
Prestonsburg took control early on against Martin County and cruised to an 11-0 win in a match played on Tuesday night.
Anna Burchett knocked in five goals and added an assist as the Lady Blackcats improved to a regional best 16-2-0.
Elizabeth Burchett totaled four goals and assisted on three others while Makayla Ousley added one goal and two assists. Lauren Patton finished with one goal and one assist.
Goalkeeper Chelsea Samons limited the Lady Cardinals to just a single goal by Paige Maynard. Kaitlyn Gauze assisted on the play as Martin County dropped to 5-13-0.
Goalkeeper Marlie Fletcher had 12 stops in the loss.
Belfry…………10
Shelby Valley…0
Belfry took a 6-0 halftime lead against Shelby Valley and rolled to a 10-0 win at Massey Energy Soccer Complex on Tuesday night.
Taylor Layne's goal in the 62nd minute ended the match.
Kylie Gollihue and Hannah Spence scored a pair of goals each as Belfry moved to 9-7-1. Kenzie Jackson, Kristine Brucal, Celia Wiedel, Marki Maynard and Kynlea Stanley had one apiece.
Shelby Valley goalkeeper Makenna Gillispie had 21 stops as the Lady Pirates took 35 shots on goal. The Lady Cats are now 0-12-1.
Here is a look at Wednesday's matches:
BOYS
Lawrence County vs. Rowan County, 6:30 p.m.
GIRLS
Apple Cup
Paintsville vs. Johnson Central, 6 p.m.
PHOTO CREDIT: Jarrid McCormick/WDN