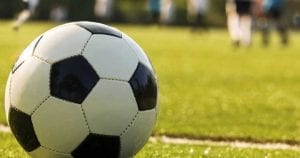 Paintsville's Tigers won for the fourth time in five matches with a 2-0 win over Martin County in a match Monday night.
The Tigers' lone loss during the stretch was to Martin County in the All "A" Classic.
Goalkeeper Nelson Sturgill was outstanding with 14 saves in his second shutout this season.
Ashton Miller and Seth Trador scored one goal each while Braydon Combs had an assist.
Paintsville is now 4-5-0 while Martin County dropped to 4-4-0.
GIRLS
Lawrence Co….10
Pikeville…….…..0
Lawrence County dominated from the opening kick as the Lady Bulldogs cruised past host Pikeville, 10-0, in a match played at the Bob Amos Soccer Complex on Monday night.
Goalkeepers Citori Branham and Allyson Moore combined for the shutout win as the Lady Bulldogs moved to 5-3-0.
Sarah Lycans knocked in seven goals while Ellie Webb scored one and assisted on six others.
Hayleah Fletcher and Jamine Justice each added one goal and one assist.
Pikeville dropped to 1-7-0.
Paintsville………8
Martin County..0
Paintsville goalkeeper Hope Auxier had five saves and recorded her seventh shutout as the Lady Tigers blanked Martin County, 8-0, in a match played Monday night.
Michaela Nieminen finished with a hat trick, scoring three goals and assisting on one other as Paintsville improved to 7-2-0. Ava Hyden followed with two goals and two assists while Emily Brown scored one goal and added an assist.
Camryn Helton and Auxier each had one assist.
Here is a look at Tuesday's matches:
BOYS
Johnson Central vs. Paintsville, 8 p.m.
Lawrence County vs. Prestonsburg, 6:30 p.m.
Letcher Central vs. Belfry, 6 p.m.
GIRLS
Belfry vs. Letcher Central, 6:30 p.m.
Johnson Central vs. Paintsville, 6 p.m.
Prestonsburg vs. Russell, 7 p.m.