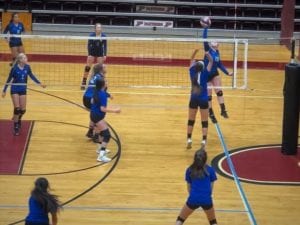 Betsy Layne's Madison Hamilton had a monster match against Lawrence County, finishing with 21 kills, 16 blocks, 14 digs and three serving aces in the come-from-behind 3-1 road victory on Monday night.
Katie Kidd followed with five kills, 12 blocks, seven digs, two assists and four serving aces in the 19-25, 25-18, 25-22 and 25-13 win. Inetta Hamilton added nine kills, eight digs and 12 aces while Emily Johnson had two kills, three blocks, 3 assists, five digs and three aces.
Alyndra Meade finished with two kills, one block, 10 digs and three ages while Madie Meade totaled 29 digs and Maddie Duff had 28 assists, five digs  and five aces.
In other matches Monday:
Johnson Central blanked Prestonsburg, 3-0 (25-12, 25-13 and 25-19)
June Buchanan shut out Magoffin County, 3-0 (25-18, 25-12 and 25-18)
Martin County downed Belfry, 3-1 (25-22, 15-25, 25-9 and 25-23)
Here is a look at Tuesday's matches:
Belfry vs. Prestonsburg, 6 p.m.
Betsy Layne vs. Pikeville, 6 p.m.
East Ridge vs. Phelps, 6 p.m.
Letcher Central at Eastside, Va., 6 p.m.
Martin County vs. Pike Central, 6 p.m.
Paintsville vs. Magoffin County, 6 p.m.
Shelby Valley vs. Jenkins, 6 p.m.
WEEKEND ROUNDUP
East Ridge splits matches
in Lady Colonel Classic
East Ridge finished 2-2 this past Saturday in the First Priority Lady Colonel Volleyball Classic played at Whitley County High School.
The Lady Warriors defeated Lincoln County and Jackson County by identical 2-0 scores on Friday before falling to Whitley County and Bullitt East by the same margin.
In the win over Lincoln County, Sarah Tackett had nine kills and eight digs while Hannah Blackburn added eight kills and one block. Alexis Little finished with 14 digs in the 25-15 and  25-23 win.
Lakin Puckett had 24 assists and six digs while Emily Lester added  six digs.
In the win over Jackson County, Tackett had seven kills and four digs while Puckett finished with 15 assists, three digs and three aces in the 25-7 and 25-12 win. Amber Justice added four digs and two aces.
Hannah Thacker had four kills and three blocks in the loss to Whitley County. Pucket added nine assists and five digs and Little totaled eight digs in the 25-16 and 25-16 loss.
Little rounded out the tournament with three kills and 15 digs in a 2-0 loss to Bullitt East. Puckett totaled 13 assists in the 25-16 and 26-20 setback.