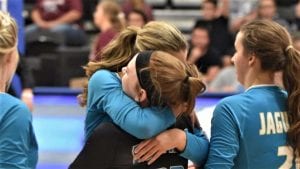 Floyd Central improved to 9-0 overall and 3-0 in district play with a 3-0 victory over Prestonsburg in a match played at Prestonsburg Fieldhouse on Tuesday night.
It marked the 17th consecutive win against district opponents and 51st consecutive sets won against district foes as well.
Kiara Warrens had a team-high 12 digs and five serving aces in the 25-9, 25-7 and 25-8 win. Jadyn Hall finished with eight kills and four digs while Amelia Wallace added 10 assists and eight digs.
Caroline Parsons totaled 11 assists, two digs and two serving aces. Allison Turner had four kills and four blocks while Alexis Daniels added five kills and two blocks.
Letcher Central…3
Harlan………..…..0
Letcher Central went on the road and dominated Harlan, beating the Green Dragons, 3-0, in a match played on Tuesday night.
Summer Madden finished with 11 kills in the 25-11, 25-7 and 25-10 win. Cali Adams added six kills and three blocks. Megan Smith and Rheagan Holbrook added three kills apiece.
Betsy Layne…..3
Phelps….………0
Betsy Layne started strong against Phelps and the Lady Bobcats went on to score a 3-0 victory in a match played at Junior Newsome Arena on Tuesday night.
Madison Hamilton had 19 kills, eight blocks and four serving aces in the 25-13, 25-7 and 25-14 win. Maddie Duff collected 31 assists while Madi Meade totaled 14 digs. Katie Kidd had six kills, three blocks and three serving aces while Emily Johnson finished with seven aces.
Shakara Lester finished with two kills and 10 blocks in the loss for the Lady Hornets. Alyssa Wolford followed with eight digs while Kacie Dotson had six kills, one block and seven digs.
Pikeville….….3
East Ridge…..0
East Ridge went on the road to Pikeville Tuesday night and the host Panthers rolled to a 3-0 victory in a match played at T.W. Oliver Memorial Gymnasium.
Kaylee Wells finished with 14 kills while Riley Tavis  had 29 assists and 15 straight serves in set three. Emily Gearheart totaled 22 digs in the 25-15, 25-11 and 25-17 match win. Chloe Wright had three kills and three blocks and Grace Clark finished with six digs. Hannah Akers added five kills.
Sarah Tackett 10 kills and 10 digs. Lakin Puckett had 17 assists, five digs and one ace while Kyra Looney followed with six kills and five digs.
In other matches on Tuesday night:
Estill County blanked Magoffin County, 3-0 (25-13, 25-6 and 25-7)
Martin County rallied to edge Johnson Central, 3-2 (18-25, 20-25, 25-21, 26-24 and 15-11)
Pike Central defeated Belfry, 3-1 (25-9, 21-25, 25-13 and 25-16)
In matches scheduled for Wednesday:
June Buchanan at Jenkins, 6 p.m.
Betsy Layne at Magoffin County, 6 p.m.