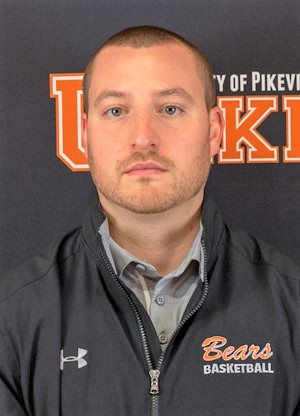 Evan Faulkner is in his fourth season as a member of the UPIKE men's basketball coaching staff, spending the 2016-17 season as a graduate assistant before taking on a full-time role as an assistant coach heading into the 2017-18 campaign.
Faulkner was instrumental in game preparation and player development in 2016-17, helping UPIKE reach the national quarterfinals for the fourth time in program history before finishing with a 28-8 record.
Faulkner came to UPIKE after two seasons as the head coach at Ripley High School (W. Va.) where he led the team to a 16-9 record in 2015-16, giving it the most wins since 1997 and the school's first trip to the regional tournament in 15 years.
Prior to taking over at Ripley, Faulkner spent the 2013-14 season as an assistant coach at NCAA Div II Charleston (W. Va.). Charleston reached the NCAA Div. II National Tournament that season after winning the Mountain East Conference Tournament title. Faulkner's duties included scouting, recruiting, budget management and academic success.
As a collegiate student-athlete, Faulkner spent two seasons at NCAA Div. I Radford (Va.) before finishing his career at Charleston where he was part of 45 wins in two seasons and was a Second Team All-WVIAC selection as a senior.
Faulkner's prep career at Elliott County High School in eastern Kentucky included three 16th Region championships and 141 wins in his career.