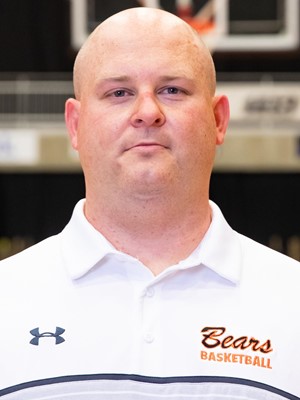 Tigh Compton begins his first season as head men's basketball coach for the University of Pikeville men's basketball team in 2020-21.
 
Compton climbed his way up former head coach Kelly Wells' coaching staff, first serving as a student assistant for two years from 2009-11 before being elevated to the assistant role prior to the 2011-12 season and the associate head coach role prior to the 2014-15 season.

He was named the program's head coach on February 26, 2020. 

As the top assistant for the program, Compton plays an integral role in recruiting, scouting, and player development at UPIKE.
 
Compton has helped guide UPIKE to a stellar 278-83 (.770) record over the last 11 years that has included 11 winning campaigns, ten 20-win seasons, seven seasons with 25 or more wins, three Mid-South Conference regular-season championships, and nine NAIA National Tournament berths.
 
While on staff, 17 UPIKE players have received NAIA All-American honors including 2015 NAIA/NABC National Player of the Year KJ Manigault and eventual MSC Players of the year Jamar "Deuce" Briscoe, Bruce Reed, Darrion Leslie, and Jayvian Delacruz.
 
He has also played a vital role in helping over 22 UPIKE student-athletes continue their careers professionally in America and overseas.
 
Compton came to UPIKE as a student assistant prior to the 2009-10 season after graduating with an associate's degree from Southwest Virginia Community College. He graduated from the University of Pikeville with a bachelor's degree in communication in 2011. He resides in Pikeville with his wife and fellow UPIKE alumni, Lisa Compton.