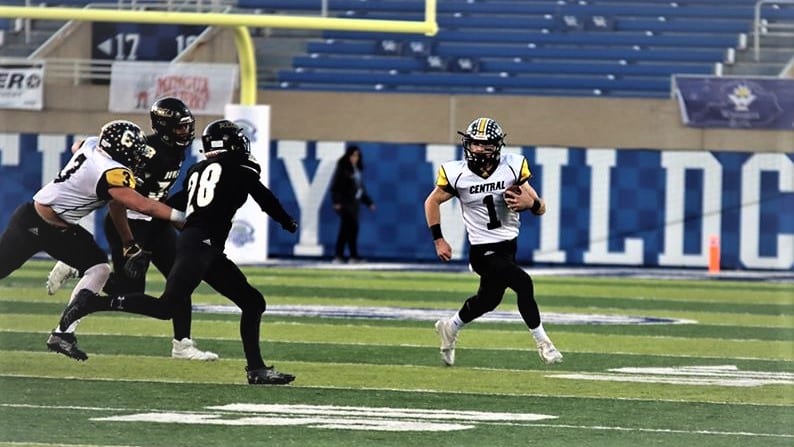 Johnson Central quarterback Ryley Preece wanted nothing more than to go out as a state champion.
He finished off his career holding the hardware high over his head following a stunning 21-20 victory over Boyle County in the Class 4A finals at Kroger Field earlier this month.
Preece guided the Golden Eagles to four state championship game appearances and fifth straight as a team. He has capped his final season by being named the Mountain Top Sports Player of the Year.
He passed for 4,800 career yards and rushed for 2,219 yards, accounting for 67 touchdowns through the air and 50 on the ground.
Meanwhile, Pikeville head football coach Chris McNamee has been named Coach of the Year after guiding the Panthers to a perfect 14-0 season and fifth Class 1A state championship.
Pike County Central defensive standout Nate Roberts was named captain of the first-team defensive unit while Mingo Central quarterback Daylin Goad captains the second team offense and Belfry's Seth Mounts captains the second-team defense.
Here is a look at the Mountain Top Sports All-Area Football Teams:
Player of the Year: Ryley Preece, Sr., Johnson Central (Capt.)
Coach of the Year: Chris McNamee, Pikeville
FIRST TEAM
OFFENSE
QB – Dalton Meade, Sr., Shelby Valley
QB – Isaac McNamee, So., Pikeville
RB – Isaac Dixon, Jr., Belfry
RB – Devin Johnson, Sr., Johnson Central
RB – Peyton Hensley, Sr., Belfry
RB – Cody Raines, Sr., Pikeville
WR – Drew Hatfield, Sr., Mingo Central
WR – Jackson Hensley, Sr., Pikeville
OL – Peyton Blackburn, Sr., Shelby Valley
OL – Ethan Wolford, Sr., Belfry
OL – Matt Compton, Sr., Pikeville
OL –Andrew Clifton, Sr., Johnson Central
OL – Grant Ray, Sr., Paintsville
UTL – Tyler Hunt, Sr., Pike Central
UTL – Jake Hyden, Jr., Paintsville
UTL – Hunter Campbell, Sr., Letcher Central
K – Jake Headly, Sr., Johnson Central
DEFENSE
DL – Jacob Baisden, Sr., Belfry
DL – Brayden Keathley, Sr., Shelby Valley
DL – Landon Hammock, So., Pikeville
DL – Jaylyn Allen, Sr., Paintsville
LB – Mason Lemaster, So., Johnson Central
LB – Grayson Cook, Sr., Belfry
LB – Jon Collum, Sr., Pikeville
LB – Nate Roberts, Sr., Pike Central (Capt.)
LB – Hunter McCloud, Sr., Johnson Central
DB – Seth Pugh, Sr., Pikeville
DB – Dillon Preston, Jr., Johnson Central
DB – Dominick Francs, Jr., Phelps
UTL – Peyton Boyd-Blair, Sr., Pikeville
UTL – Mason Lovely, Jr., Magoffin County
UTL – Isa Scales, Jr., Mingo Central
K – Tanner Hamilton, Pikeville
SECOND TEAM
OFFENSE
QB – Daylin Goad, Jr., Mingo Central (Capt.)
QB – Ethan Varney, Sr., Tug Valley
RB – John Walker Phelps, Sr., Paintsville
RB – Jayden Newsome, Fr., Shelby Valley
RB – Matt Anderson, Fr., Pike Central
RB – Logan Proctor, Jr., Martin County
WR – Devin Hatfield, So., Mingo Central
WR – Brock Muncy, Sr., Man
WR – Karsten Poe, Jr., Paintsville
OL – Logan McCoy, Jr., Belfry
OL – Nick Harless, Sr., Martin County
OL – Jared Webb, Tug Valley
OL – Owen Lemaster, So., Johnson Central
OL – Jason Buttery, Sr., Letcher Central
OL – Grant Bingham, So., Johnson Central
UTL – Caleb May, Jr., Tug Valley
UTL – Baden Gillispie, Jr., Lawrence County
UTL – Chase Mims, So., Betsy Layne
K – Seth Trador, Sr., Paintsville
DEFENSE
DL – Braden Castle, Sr., Johnson Central
DL – Brayden Hensley, Sr., Lawrence County
DL – Landon Dotson, So., Phelps
DL – Braxton Collins, So., Prestonsburg
LB – Seth Mounts, Jr., Belfry (Capt.)
LB – Preston Dingess, Sr., Mingo Central
LB – Chase Berry, Sr., Chapmanville
LB – Kaden Caudill, Sr., Pikeville
LB – Noah Marcum, Sr., Floyd Central
DB – Isaiah Birchfield, Belfry
DB – Clay Tinsley, Sr., Pikeville
DB – Zach Frye, Sr., Man
DB – Cody Rice, Sr., Johnson Central
UTL – Jordan Hayes, So., Logan
UTL – Ethan Bentley, So., Shelby Valley
UTL – Dalton Boyd, Sr., Floyd Central
K – Xavier Trump, Sr., Chapmanville