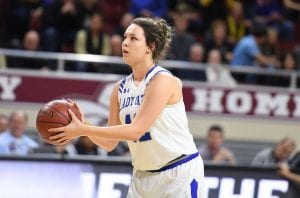 Shelby Valley's success on the hardwood runs deep. The Lady Cats look to return to the top of the 15th Region when the season tips off this December.
Sophomore standout Alyssa Elswick has put in countless hours of hard work and determination to improve her game this coming season. She averaged 14.7 points per game and six rebounds as a freshman as Valley finished 18-16.
As an eighth grader she was part of the Valley team which advanced to the All "A" Classic championship game two years ago against Murray.
With the loss of guard Cassidy Rowe, Elswick's play and leadership will be key. She was honored this week for her off-season workouts as Mountain Top Sports' Athlete of the Week.
Coaches are reminded if you have a player who has worked hard to improve their game during the off-season let us know about it. Email teddy@mountain-topmedia.com.