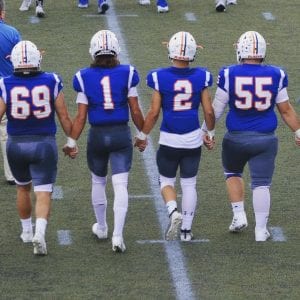 The Johnson Central Golden Eagles continue to roll through the 2019 season, hammering Harlan County this past Friday night at Eagle Field.
Coach Jim Matney's team holds onto the top spot in the Mountain Top Sports Super 7 football poll released Monday.
The Golden Eagles, now 8-0, will play at Letcher County Central on Friday night.
Pikeville, which will be 9-0 as a result of a forfeit win this week over Jenkins, stayed in second place following a big road win over Hazard. The Panthers captured the district championship with the win.
Man, now 7-0, scored a late touchdown to beat Wyoming East and hang on to the No. 3 ranking, just ahead of No. 4 Belfry (5-2). The Pirates blanked Lawrence County.
Rounding out the poll are Shelby Valley (7-2) at No. 5, followed by No. 6 Paintsville (6-2) and No. 7 Pike County Central (7-1). The Wildcats beat East Ridge while the Tigers blanked Betsy Layne and the Hawks cruised past Magoffin County.
PHOTO CREDIT: Todd Conley