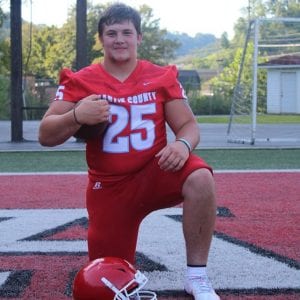 Martin County junior fullback and linebacker Branson Smith has worked hard throughout this past off-season to improve his game as the Cardinals prepare for the upcoming season.
Smith's work ethic has caught the attention of head coach Josh Muncy. He is also an all-state wrestler who is currently ranked No. 1 in his weight class.
For his efforts, he has been honored this week at Mountain Top Sports' Athlete of the Week.
Smith and the Cardinals will kickoff the 2019 football season Friday night at Betsy Layne against the Bobcats.
Coaches are reminded if you have an athlete who is putting in an "extra effort" this off-season let us know about it. Send your nominations to: teddy@mountain-topsports.com