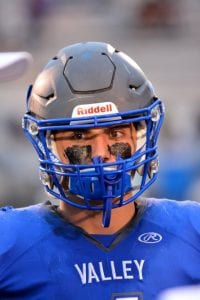 Shelby Valley's long run of outstanding backs continues with the likes of quarterback Dalton Meade.
His move from running back under center didn't miss a beat this past Friday night as he rushed 27 times for 362 yards and four touchdowns in the Wildcats' 44-22 win over Letcher Central.
He also completed two of three passes for 23 yards and a touchdown; rushed for three, two-point conversions and finished with 11 tackles on defense, including seven solo.
His performance has earned him Mountain Top Sports' Athlete of  the Week.
Several other players were outstanding during opening night in the Bluegrass:
Pikeville running back Cody Raines rushed 26 times for 170 yards and three touchdowns as the Panther beat Bardstown.
Belfry running back Isaac Dixon finished with 150 yards on 10 carries and three touchdowns, two rushing (86 and 30 yards) and one on a 65-yard punt return.
Paintsville's John Walker Phelps totaled 120 yards on seven carries and two rushing touchdowns. He also picked off a pass for another.
Martin County running back Kolby Sparks had 10 carries for 215 yards and a pair of touchdowns in the Cardinals season-opening win.
Pike Central's Matt Anderson had 94 yards on nine rushes and a pair of touchdowns in the Hawks' win.
Floyd Central quarterback Caleb Hager ran for 129 yards and two touchdowns in the Jaguars road loss.
Magoffin County's Jaylon McDuffus had 118 yards on eight rushing attempts in the Hornets' opening win.
Johnson Central's Bryce Tackett scored a pair of touchdowns as the Golden Eagles rolled in their road opener.
PHOTOS: Todd Werner