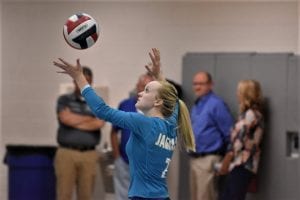 The Pikeville Lady Panthers are Floyd Central Lady Jaguars are tied for the No. 1 spot in this week's Mountain Top Sports Super 7 volleyball poll released Tuesday.
Pikeville is now 24-7 overall while Floyd  Central is 23-7. Both are unbeaten in region and district play.
Defending champion Paintsville (20-8) is third, followed by East Ridge (16-7). The Lady Warriors slipped ahead of Pike County Central (17-6), which dropped to No. 5.
Rounding out the poll is Martin County (16-9) at No. 6, followed by Letcher County Central (11-8) at No. 7.
MTS Super 7 poll
Pikeville (24-7)
(tie) Floyd Central (23-7)
Paintsville (20-8)
East Ridge (16-7)
Pike Central (17-6)
Martin County (16-9)
Letcher Central (11-8)