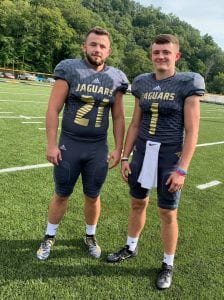 Floyd Central running back Dalton Boyd took matters into his own hands this past Friday night in leading the Jaguars to a thrilling 36-34 overtime win at Magoffin County.
He rushed for 201 yards and four touchdowns, including the game-winning touchdown and two-point conversion run.
For his effort, the Jaguar running back has been chosen as the Mountain Top Sports/Buffalo Wild Wings Player of the Week.
Other top performers from this past week:
Logan quarterback Jordan Hayes tossed four touchdown passes as the Wildcats won for the first time this season, beating Scott.
Mingo Central receiver Drew Hatfield had 20 catches for 237 yards and two touchdowns in the Miners win over Nitro. Quarterback Daylin Goad passed for 316 yards and three touchdowns and ran for 80 yards and three scores.
Shelby Valley quarterback Dalton Meade finished with 174 yards and four rushing touchdowns and passed for 98 yards and another score in the Wildcats win over Martin County.
Lawrence County quarterback Baden Gillispie had nine carries for 131 yards and had five rushing touchdowns in the Bulldogs loss to Pike Central.
Pike Central quarterback Tyler Hunt rushed for 216 yards and five touchdowns and teammate Matt Anderson finished with 241 yards and two scores on 25 carries in the Hawks win over Lawrence County.
Paintsville quarterback Jake Hyden returned to the lineup and passed for 248 yards and four touchdowns in the Tigers road win over Fairview. Receiver Karsten Poe had three catches for 147 yards and two scores.
Pikeville quarterback Isaac McNamee passed for 208 yards and four touchdowns, all in the first half, as the Panthers beat Phelps. Clay Tinsley returned the opening kickoff for a touchdown and hauled in a 67-yard pass play for another.
Special shout out this week:
The Betsy Layne football team on their act of kindness to allow a special needs student from Raceland score a touchdown late in the game on Friday night.