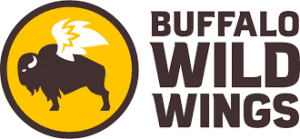 Mingo Central wide receiver Drew Hatfield had a big return to the field this past week by hauling in eight passes for 298 yards and five touchdowns in the Miners' 56-16 victory over Wayne. He had TD catches of 11, 42, 58, 62 and 90 yards.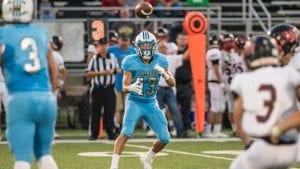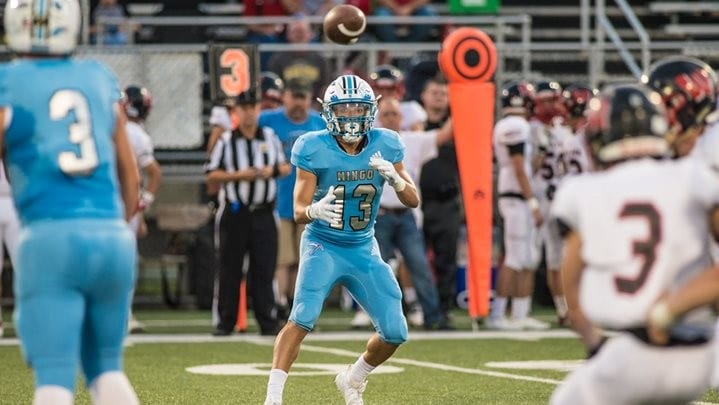 His performance, in a week filled with outstanding performances, has earned him Mountain Top Sports/Buffalo Wild Wings Player of the Week.
He edged out Letcher Central running back Hunter Campbell who rushed for 314 yards and three touchdowns on 17 carries in the Cougars' 40-36 win at Estill County.
Special honorable mention goes out this week to:
Shelby Valley's one-two running game of Ethan Bentley and Jayden Newsome combined for 487 yards four touchdowns. Bentley finished with 281 yards and three scores while Newsome had 207 yards and one score.
Betsy Layne quarterback Chase Mims passed for 147 yards and two touchdowns and ran for 66 yards and three others. Teammate Chase Hamilton ran for 183 yards and one score and caught eight passes for 133 yards and two touchdowns.
Mingo Central's Daylin Goad had 317 yards passing and five catches while rushing for 86 yards and two scores.
Other top performances:
Tug Valley quarterback Ethan Varney passed for 143 yards and two touchdowns and ran for 83 yards and one score in the Panthers' 32-12 win over Sherman.
Lawrence County quarterback Baden Gillispie rushed for 144 yards and three touchdowns in the Bulldogs' 21-7 win over Boyd County.
Phelps' Dominick Francis ran for 140 yards on 17 carries and two touchdowns in the Hornets' 27-18 road win over Harlan.
Pikeville placekicker Tanner Hamilton booted a game-winning, 26-yard field late in the third period to lift the Panthers past Paintsville, 9-8.
Photo Credit: WES WILSON PHOTOGRAPHY