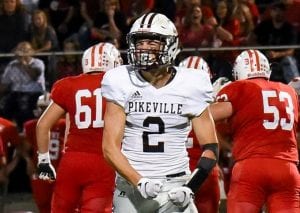 Pikeville wide receiver Seth Pugh had four catches this past Friday night, but none bigger this season than his 32-yard touchdown reception which lifted the Panthers to a come-from-behind 22-21 victory over Belfry in the showdown played at CAM Stadium.
Pugh's second touchdown catch of the night gave the Panthers their first win over the Pirates since 2014.
His performance has earned him Mountain Top Sports/Buffalo Wild Wings Player of the Week honors.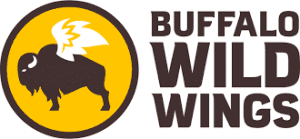 Pugh edged out Tug Valley quarterback Ethan Varney who passed for 372 yards and five touchdowns and ran for a sixth in the Panthers big road win at Van.
Other top performers this week included:
Mingo Central's Drew Hatfield had eight catches for 212 yards and three touchdowns in the Miners' win over previously unbeaten Sissonville. Teammate Daylin Goad passed for 312 yards.
Pikeville quarterback Isaac McNamee passed for 138 yards and two touchdowns and ran for a third in the win over Belfry.
Belfry running back Peyton Hensley finished with 127 yards and two touchdowns and teammate Ben Bentley added 113 yards and a score in the loss to Pikeville.
Shelby Valley quarterback Dalton Meade ran for 140 yards and two touchdowns and passed for 90 yards and another in the Wildcats win over Phelps. Teammate Ethan Bentley added 108 yards and one score.
Letcher Central quarterback Carson Adams rushed for 152 yards and two touchdowns and passed for 86 yards and another in the Cougars loss to Pike County Central. Teammate Hunter Campbell added 116 yards on the ground and a pair of touchdowns.
Floyd Central running back Gavin Martin rushed for three touchdowns in the Jaguars big home win over Prestonsburg.
Man's Quentin Moody hauled in a touchdown pass and returned an interception for the eventual game-winning score in the Hillbillies road win over Greenbrier East.
Pike Central quarterback Tyler Hunt tossed four touchdown passes in the Hawks come-from-behind win over Letcher Central. He also rushed for two scores and finished with 400 yards. Keegan Bentley had TD receptions of 61, 59 and 25 yards.