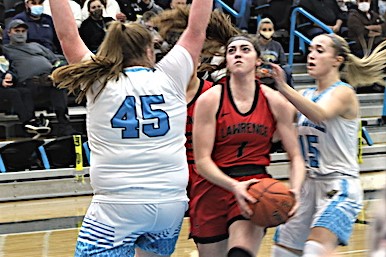 Lawrence County sophomore standout Kensley Feltner has been named the Buffalo Wild Wings Player of the Week following her performance in the 58th District tournament last week.
She had games of 38 points and 18 rebounds and 47 points and 14 boards in leading the Lady Bulldogs to back-to-back district championships.
It is the third time this season she has won the honor.
She edged out Betsy Layne's Brady Robinson who had games of 36 and 22 as the Bobcats won the district title.
Special honorable mention goes to:
Johnson Central's one-two scoring duo of Cory VanHoose (21 and 27 points) and Isaiah May (14-26).
Johnson Central's Sammi May with games of 20 and 27 as the Lady Eagles captured the district championship.
Paintsville's Braxton Tharp had 31 points in the Tigers' double overtime win against Johnson Central in the district title games.
Pikeville's Kenzie Maynard scored 21 and 16 as the Lady Panthers won the district championship.
Pike Central's Jaylan Rigdon who scored 21 and 18 for the Hawks.
Honorable mention:
Sal Dean, DeMahjae Clark, Bol Kuir, Kyera Thornsbury, Belfry; Chase Mims, Andrew Kidd, Kim Akers, Betsy Layne; Hunter Damron, Eli Rose, Eli Sykes, Isaac Woods, East Ridge; Brandon Moore, Kennedy Harvel, Katie Jo Moore, Jada Johnson, Grace Martin, Floyd Central;
Jerrica Thacker, Jenkins; Clara Blair, Kelci Blair, Johnson Central; Cody Maynard, Kaden Gillespie, Trenton Adkins, Kaison Ward, Lawrence County; Brady Dingess, Luke Hale, Parker Davis, Katie Marcum, Martin County;
Colby Fugate, Baron Ratliff, Chloe Hannah, Emilea Preece, Ava Hyden, Paintsville;
Kasope Lawrence, Josh Du Toit, Emalie Tackett, Hannah May, Pike Central; Trinity Rowe, Emma Ratliff, Pikeville; Keandre Galaurb-Jackson, Phelps;
Ryan Rose, Celina Mullins, Prestonsburg; Kaden Robinson, Keian Worrix, Zack Johnson, Alyssa Elswick, Kelsie Owens, Kyra Looney, Cassidy Rowe.