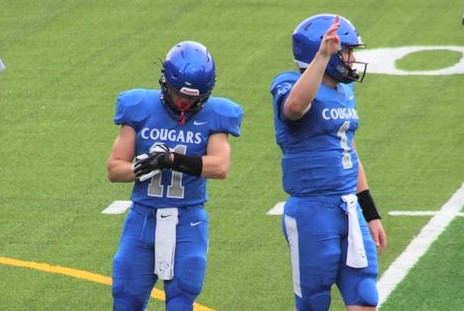 Letcher Central quarterback Carson Adams passed for 265 yards and three touchdowns and rushed for 106 yards and two scores and added a pair of two-point conversion runs, in the Cougars 36-0 win over Hazard.
His effort on the field has earned him the Mountain Top Sports/Buffalo Wild Wings Player of the Week honors.
Here is a look at this week's special honorable mention:
East Ridge quarterback Dylan Burdine passed for 339 yards and three touchdowns and ran for 111 yards and three scores as East Ridge fell at Harlan.
Magoffin County all-purpose back Aden Barnett rushed for 152 yards and four touchdowns while passing for another as the Hornets earned a 40-14 win over the Tigers on the road Friday night. He also returned a kickoff for a touchdown.
Lawrence County quarterback Alex Strickland rushed 144 on 10 carries and one touchdown as the Bulldogs moved to 3-0. He also passed for 106 yards and one TD pass. Strickland returned an interception for a touchdown.
Other nominees included:
Man quarterback Israel Canterbury passed for 208 yards and three touchdowns as the Hillbillies rolled past Westside, 49-14, in a game played at Clearfork on Friday night.
Lawrence County running back Dylan Ferguson finished with 111 yards on the ground and three rushing scores.
Pikeville running back Blake Birchfield carried 29 times for 189 yards and a six-yard touchdown run as the Panthers beat Wheelersburg, Ohio on the road.
Phelps running back Bryson Locklear finished with 110 yards and one touchdown on 14 carries while Brayden Chapman added 107 yards and one score on just six carries in the Hornets' road win at Hurley, Va.
Lawrence County running back Dylan Ferguson finished with 111 yards on the ground and three rushing scores.
Prestonsburg running back Ethan Jarvis rushed for 185 yards and three touchdowns to power the Blackcats to a 34-6 win over Powell County.
Logan quarterback Jordan Hayes passed for 249 yards and three touchdowns first-half scores as the Wildcats beat Wayne, 27-20.
Chapmanville quarterback Brody Dalton rushed 26 times for 166 yards and two touchdowns and passed for 96 in the Tigers loss to Winfield.
Johnson Central running back Carter Conley scored three touchdowns, including the game-winning score in overtime as the Eagles rallied to beat Cahokia, Ill.
Martin County running back Dawson Mills who carried 12 times for 205 yards and four touchdowns. Branson Smith carried 12 times for 85 yards and two scores in the Cardinals 48-16 win over Knott Central.
Pike Central running back Matt Anderson, who had been sidelined with an injury the team's first three weeks, returned and rushed for 186 yards on 26 carries and two touchdowns as Central fell to Clay County.
Mingo Central running back Norman Kennedy had a big game on the ground with 216 yards rushing on 23 carries and three touchdowns in the Miners' road loss at Point Pleasant.
Paintsville running back Harris Phelps rushed for 241 yards and a touchdown on 18 rushing attempts as the Tigers won for the first time under new head coach Trevor Hoskins.