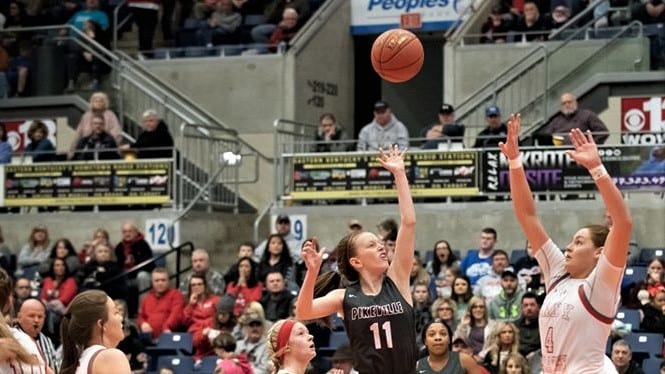 PIKEVILLE – Martin County's Brady Dingess and Pikeville's Trinity Rowe provided the leadership needed at guard to carry their respective teams to the Sweet 16 state tournaments.
Both were chosen 15th Region Tournament MVPs and thus share the honor as Mountain Top Sports' Players of the Week.
Dingess and the Cardinals have won 15 of their last 16 games, including Monday night's 65-61 victory over Lawrence County. Rowe and the Lady Panthers, now 26-7, beat Lawrence County, Belfry and Shelby Valley to advance.
Special honorable mention goes out to Letcher Central's Kaylee Banks, named 14th Region MVP after leading the Lady Cougars to the Sweet 16.
Other top performers this past week included:
Letcher Central's Brooke Bates, Loren Boggs and Brooklynn Collins.
Pikeville's Rylee Sammons, Grayson Harris, Kelsey Jo Tackett, Alivia Gearheart, Kirsten Cole-Williamson, and McKenzie Maynard.
Shelby Valley's Keian Worrix, Cody Potter, Alyssa Elswick, Alyssa Newsom, and Laci Johnson.
Lawrence County's Tyler Maynard, Cody Maynard, Trenton Adkins and Kensley Feltcher.
Martin County's Ethan Smith-Mills, Jordan Dalton, Braxton Maynard, Trey James, and Madison Thompson.
Belfry's Sal Dean, Katie Ball, and Cushi Fletcher; Prestonsburg's Adam Slone; Phelps' Trey Francis; Paintsville's Colby Fugate; Pike Central's Kelsi Brinager; Johnson Central's Kelci Blair; and Floyd Central's Katie Jo Moore sand Kennedy Harvel.