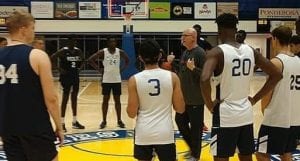 Wesley Christian School will be the site of the Fellowship of Christian Athletes Showcase on Nov. 1-3.
Games will be played at the Lucy Kinzer Memorial Gymnasium starting at 6 p.m. on Friday night.
Wesley Christian head coach Randy Casey said fans can purchase tickets at $5 per session or $10 for the entire weekend of games.
Here is a look at the schedule:
Friday, Nov. 1
6 p.m. – Wesley Christian Red vs. Dohn Prep (Ohio)
7:30 p.m. – Galilean Christian (KY) vs. Beckley (WV) Prep
9 p.m. – Wesley Christian vs. Grace Baptist (Miss.)
Saturday, Nov. 2
11 a.m. – Flat Gap vs. Wesley Elementary Girls B
12:15 p.m. – Flat Gap vs. Wesley Elementary Girls A
1:30 p.m. – Wesley Middle B vs. June Buchanan
3 p.m. – Dohn Prep (Ohio) vs. Peel Prep (CAN)
4:30 p.m. – Wesley Middle A vs. June Buchanan
6 p.m. – Wesley Christian vs. Galilean Christian (KY)
8 p.m. – Wesley Christian Red vs.  Grace Baptist (Miss.)
Sunday, Nov. 3
2:30 p.m. – Wesley Christian Red vs UPIKE junior varsity
4 p.m. – Wesley Christian vs. Peel Prep (CAN)
"This  is a great opportunity for area basketball fans to enjoy a great weekend of games," Casey said. "It's an opportunity to get to see our team and some of the best teams nationally and internationally."