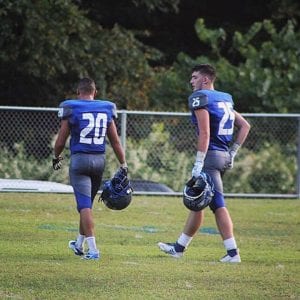 Eminence took advantage of five Phelps turnovers, scoring on each mistake, as the Warriors beat the Hornets, 50-22, in a game played at Marty Casey Stadium on Saturday.
Running back Dominick Francis had a big day for Phelps, now 3-3, with 225 yards rushing and two touchdowns on 22 rushing attempts. He also had one pass reception for 22 yards. He had TD runs of 60 and 20 yards.
Running back Tyrell Hollis added a rushing touchdown. Hollis recovered a fumble. Hollis scored on a five-yard run as time expired on the clock.
Kenzeth Ratliff led the defense with eight tackles, including three solo. Francis finished with six.
Eminence quarterback Adriene Bailey passed for 248 yards and four touchdowns. Dakadrian Saunders hauled in five passes for 222 yards.
Phelps played the game with heavy hearts after learning of the passing of head coach Andrew West's father, Butch, earlier in the day.
The Hornets will return to action on the road against Pikeville (6-0) on Oct. 11. Kickoff at Hillard Howard Field is set for 7:30 p.m.