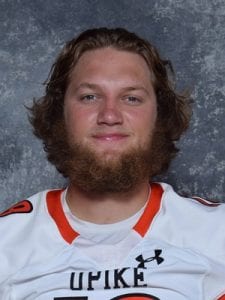 The University of Pikeville football Bears will return to Hambley Athletic Complex to host Bethel University on Saturday.
UPIKE, 4-4, is looking to win for the fourth time in their last five games following last Saturday's 27-0 win over Cumberland (Tenn.) in Lebanon.
The Bears defense was rock-solid in the win over the Phoenix, forcing five turnovers while recording the team's first shutout since 2016. UPIKE allowed just 154 total yards. It was the second time this season an opponent had been held to less than 200 yards.
Quarterbacks Bowen Smith and Xavier Malone passed for 166 yards and three touchdowns. Smith tossed a pair of those while finishing with 110 yards. Malone added 56 yards. Receiver Arties Clark hauled in all three TD receptions.
Running back Derius Gibson ran for 102 yards and one rushing touchdown. Alex Sanders followed with 57 yards.
Taeron Brown recovered two fumbles and picked off one pass, Josh Green blocked a punt and Matt Horn recovered a fumble.
UPIKE will honor its 21 senior team members prior to the 5 p.m. kickoff. Activities are scheduled to begin at 4:30 p.m.